The Benefits of Membership
AIA is where the architecture and design communities come together to share knowledge, gain expertise, get connected, and stay involved. An AIA membership connects you to this global community of over 90,000 professionals who share your passion for architecture, design, and the built environment. It also connects you to opportunities to mold the architecture profession, public policy, and practice.
Latest Posts
AIA & CSI Lunch & Learn (April 11, 2018)
Interior Signage Systems, presented by Takeform
This course outlines the essential elements of an interior signage system, including ADA Compliance, Life Safety Issues, Wayfinding Concerns and Enhancing the Client's Brand. Presented by John Lavelle, John has over 15 years experience providing interior sign systems to a wide range of clients, which includes: healthcare, higher education, religious, corporate and governmental.
Learning Objectives
This course will show you how to develop a comprehensive an interior signage system. It reviews various aspects of the signage design process to assure that the signage is not only attractive, but functional. It also reviews the signage programming process to
assure that you have designed the right sign types and have placed them properly on the floor plans. And will help you generate a professional signage specification for your next project.
This course will cover the new ADA regulations as they pertain to signage that went into effect March 2012, including the new installation guidelines and font restrictions.
This course will cover all the Life Safety issues related to proper signage that is necessary for your Certificate of Occupancy. It will highlight the proper development of fire evacuation plans, inside the stairwell signage and fire extinguisher location signage.
This course reviews some basic Wayfinding and Branding concepts to be included in your interior signage system, which will enhance the visitor experience and client's Brand.
LIMITED SEATING
Registration will close with 20 registrants or
the Friday before our event, whichever comes first.
IMPORTANT REGISTRATION INFORMATION:
At the time of registration, you will receive an "on screen" confirmation of registration. Next, you should receive a confirmation email. If you do not receive this email, you did not successfully register for the meeting. Please try again or contact jtipton@AIAakron.org
Wednesday, April 11, 2018 from 12:00 PM to 1:00 PM EDT


Add to Calendar
AIA Akron & Akron-Canton CSI Office
Fairlawn, OH 44333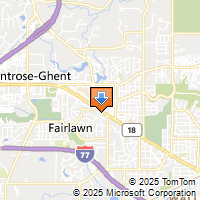 Driving Directions
Call for Presentations
AIA Ohio Convention


Oct. 4-6, 2018


Renaissance Hotel
Toledo, Ohio
The AIA Ohio Convention, planned for
October 4-6, 2018
, will bring together more than 250 architects and allied professionals from across Ohio for three days of programs and activities. The vibrant city of Toledo will be our host, and it is easily accessible to architects from throughout the region.
The Programming Sub-Committee of the AIA Ohio Convention Committee is interested in providing a wide range of programs that will appeal to needs of all of the convention attendees. It is the committee's intention that programs submitted will address the needs of a broad representation of the Institute's membership and allied professionals. Presenters are asked and encouraged to provide programs that address at least one of the conference tracks. Those programs deemed to address the needs of the widest range of participants will be given the highest consideration.
Thematic Tracks and Example Topics
Technical seminars – Topics include Design, Professional Education, Calls to Action, Planning Tools
Practice Focus or Professional Interest – Topics include Ethics, Community, Education, Civic
Action/Influence/Change/Alter – How we bring change to our communities, environment, profession, etc.
Results/Outcome – The results of our work; Studying completed projects; Learning from our successes/failures; Our impact on the built environment
While we encourage presentations applicable to one of these focus areas, the Convention Program Committee will review and consider alternate program submittals related to the conference theme. All programs should endeavour to obtain health, safety and welfare (HSW) credits as defined by the American Institute of Architects, as they will be given preference over programs that do not qualify for HSW. The committee is also interested in programs that would be eligible for GBCI requirements.
Sessions: Sessions are educational presentations, including panel discussions and lectures, and are planned to be presented at the Renaissance Hotel.
Please complete the online Presentation Submission Form
with the topic title, abstract and learning objectives, contact information and a brief biography for each presenter. The number of presenters for each program proposal should not exceed three. Refer to the Presentation Submission Guidelines at the beginning of the online form for additional requirements.
February 28, 2018

Sept. 28, 2017

Oct. 4-6, 2018

Call for Presentations issued
Proposals must be received by EOB
Final Selection results sent to all proposal entrants
Hand-out materials due to AIA Ohio
AIA Ohio Convention, Toledo, Ohio
A'1
AIA Conference on Architecture 2018 | June 21-23 | New York City
---
On

June 22

, we're taking over Hammerstein Ballroom for a night you won't forget.
DJ Questlove opens The Party! with a 90-minute set that incorporates his vast collection and renowned knowledge of music.
It's our biggest party, and it's going to sell out.
AIA Conference on Architecture 2018 [June 21-23] |
Architecture Expo [June 21-22, 10am-6pm]
---
STAY CONNECTED